[12/6/2021] Jack Dorsey, founder of Bitcoin spending app Square Inc said that the company is considering weighing in the possibilities of manufacturing Bitcoin hardware wallet. Dorsey who is a big Bitcoin advocate and revealed if his company's plans finalize over a bitcoin hardware wallet production, it would be entirely done through open-source software and community involvement.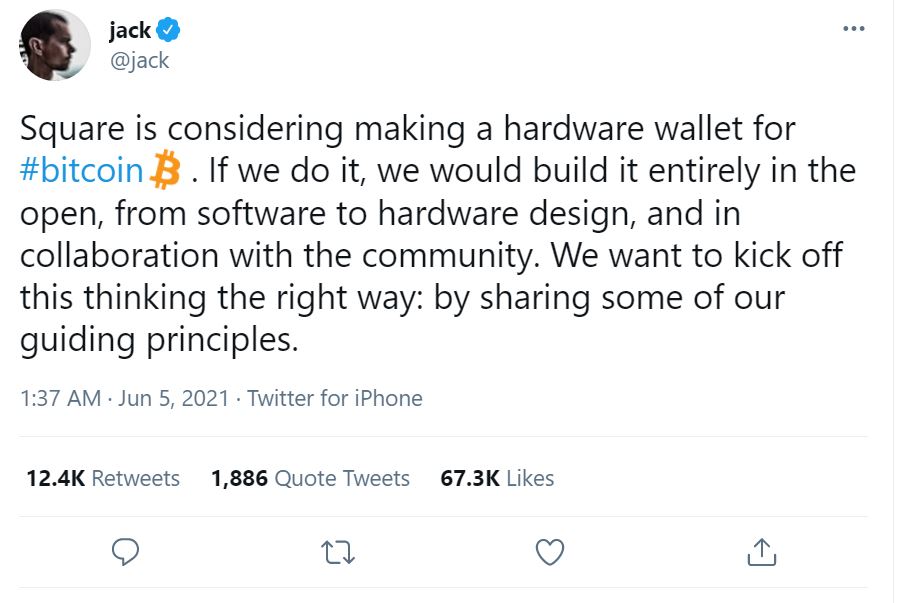 Dorsey also laid out some of the guiding principles that would drive the new manufacturing process and said,
Bitcoin is for everyone. It's important to us to build an inclusive product that brings a non-custodial solution to the global market. Much respect to everyone who has gotten us this far. What are the biggest blockers to get a non-custodial solution to the next 100M people?
Square's Bitcoin Hardware Wallet to Have Cash App Integration?
Dorsey in his tweet series talked about different aspects of the upcoming project with security being the top priority. He also went on the stress that self-custody doesn't have to be as complex as it is at present and the firm would be looking for an inclusive solution with assisted self custody. He went on stress the need for mobile compliant service as the majority of people access the internet and other services on mobile.
Dorsey went on to add that its very popular cash app will be integrated into the upcoming hardware wallet service for easy accessibility. He also added that the layer-2 solution could also play a key role in Square's bitcoin hardware wallet.